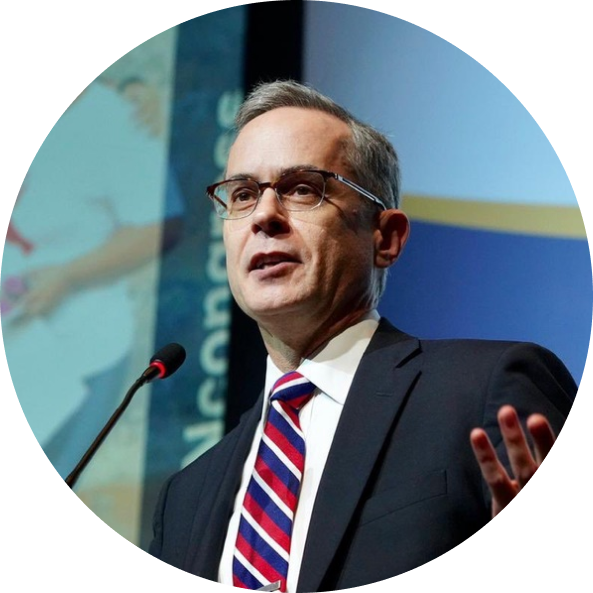 Jeremy Lauer joined Strathclyde University in 2020 as Professor of Management Science following a 25-year career as Economist with the World Health Organization (WHO).
Jeremy has a bachelor's degree (A.B., 1986) in Mathematics and Philosophy from St John's College, Annapolis, master's degree (M.A., M.Sc., 1991) in Economics and in Agricultural and Applied Economics from the University of Wisconsin, and a doctorate (Ph.D., 2009) in Health Policy and Management from Erasmus University Rotterdam.
Jeremy's research has centred around the use and interpretation of mathematical models in economic evaluation in global health, and he has contributed to an influential body of work on the cost effectiveness of interventions against cardiovascular risk factors and disease, respiratory conditions, cancers, maternal and child health, HIV/AIDS, malaria, tuberculosis and interventions for chronic disease prevention, as well as on health systems research and diverse topics in epidemiology, modelling and statistics.
He has led inter-disciplinary teams in a range of countries in Latin America and Africa on adapting the results of economic evaluation to national settings.Jeremy has served as Principal Investigator and Co-Investigator on a number of large research projects in breast-cancer and chronic-disease control and has been a member of Steering Committees and Technical Advisory Groups at the University of Stellenbosch (SACEMA), the University of Basel (Swiss TPH) and the University of Bergen (CIH).
In 2016, Jeremy analysed the economics of fiscal space for health workforce expansion in lower- and lower-middle income countries, as well as the interactions between the health system and the economy, for the UN Secretary-General's High-Level Commission on Health Employment and Economic Growth.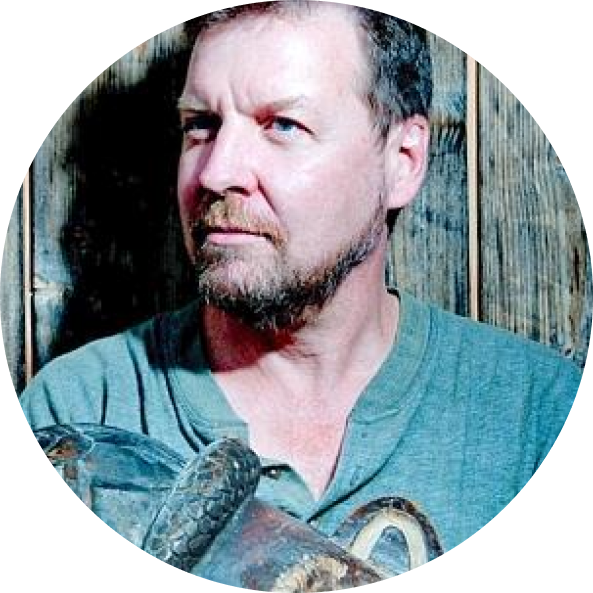 Jean-Louis Arcand is Professor in the Department of International Economics at the Graduate Institute of International and Development Studies in Geneva, which he joined in 2008. From 2017 to 2020 he was department chair, from 2012 to 2016 he was the founding director of the Center for Finance and Development and from 2009 to 2012 he was chair of Development Studies.
He is a Founding Fellow of the European Union Development Network (EUDN), a Senior Fellow at the Fondation pour les études et recherches en développement international (FERDI), and Visiting Professor at the Hanqing Advanced Institute of Economics and Finance at Renmin University of China in Beijing. He was assistant and then Associate Professor at the University of Montréal, and Professor at the Centre d'Etudes et de Recherches en Développement International (CERDI).
He holds a PhD in Economics from the Massachusetts Institute of Technology (MIT), an MPhil from Cambridge University and a BA (high honors) from Swarthmore College. His research deals with the microeconomics of development, with a current focus on impact evaluation, health and the political economy of China. He consults for the World Bank, the FAO, the UNDP, the WHO, the EU, the Gates Foundation and several national governments.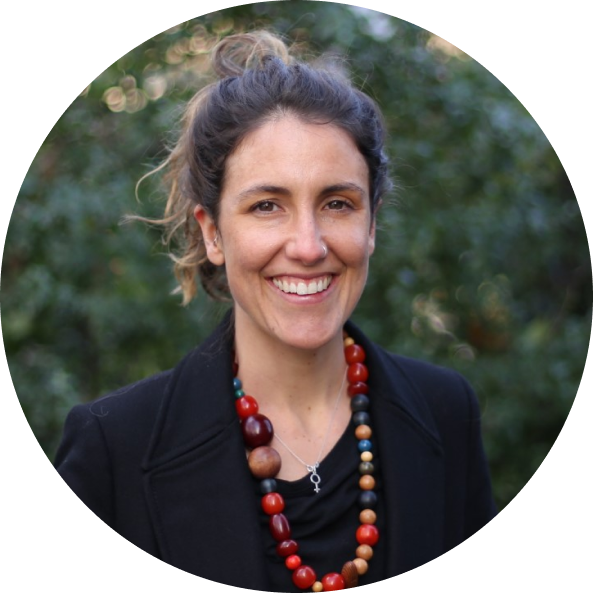 Geordan Shannon is a medical doctor and academic at the Institute for Global Health, University College London. Much of her career has been dedicated to thinking critically about gender, health systems, and transformative, trans-disciplinary and transnational approaches to global health, with a strong emphasis on systems thinking, human-centred design, and participatory research. She was awarded the United Kingdom's Young Australian of the Year Award in recognition of her oversight of community-led interventions for non-communicable disease and violence prevention in Australia, Kenya, Peru, Sierra Leone and the Republic of South Africa. Her current research takes a systems and design thinking approach to address broader (eco)systems failures in achieving human health and wellbeing in low resource settings worldwide.
Through a deep understanding of local contexts and insights into informal community systems that operate to support and promote human health, Geordan's research works to better understand how communities use local resources, and how orchestration of community resources can help health interventions be more effective and more sustainable.Her current research focuses on informal systems of community health and wellbeing, and enabling communities to mobilise and transform local resources to improve their health and wellbeing.
Through her work, she has participated in a number of high-impact international initiatives such as the Lancet theme issue on Women in Science, Medicine, and Global health, the All Stars in Global Health initiative from Grand Challenges Canada, the Wellcome Trust Culture and Cause, and the Hamwe Festival in Rwanda. She has a portfolio of experience in international health policy, having collaborated with the World Health Organisation and the Global Health 5050 Initiative to translate academic insights to effect high-level change alongside colleagues and stakeholders internationally.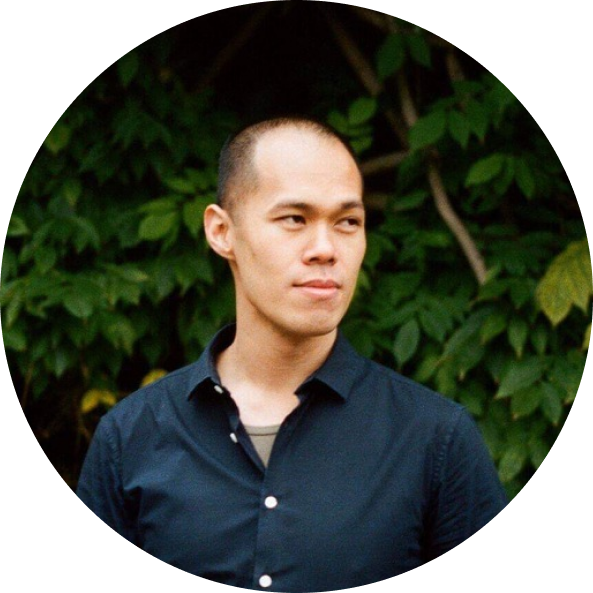 Des Tan is a technology entrepreneur with ventures in America, Australasia, and Europe.
His current work involves building data models, analytics platforms and web-based tools for government, the UN, FTSE 100 companies and digital health services.
Prior to this, he has led a number of enterprises with a focus on equitable representation in the creative industries, including investment in the South East Asian film industry.
He studied mathematical biology at Oxford where he worked on population modelling and infectious-disease modelling of malaria, bubonic plague and other zoonoses.
Des was also an advisor and tech lead for the Prime Minister's Strategy Division in Australia, where he analysed census and other population data to build strategic frameworks, economic models and decision-support tools. Currently he leads action-oriented research on systems thinking, knowledge translation and decision making in low resource settings worldwide.
His main interest is in healthcare and health technology and, in general, genuine human needs that are overlooked and under served by current business and technology models.
Dr. Zahra Zeinali is a physician and global health professional. She is a global health consultant with United Health Futures, focusing on planetary health, equity, and overall strategy.
She is also a fellow with the Rockefeller Foundation-Boston University 3-D Commission on Health Determinants, Data and Decision-Making, and a researcher with Global Health 50/50. In 2020 she was selected as an Emerging Voice for Global Health by Health Systems Global.
Zahra has previously worked as a researcher with Johns Hopkins Bloomberg School of Public Health on Gender and Intersectionality; as a policy officer with EAT Foundation focusing on food systems policy at the intersection of human and planet health; with the WHO and Jhpiego on human resources for health policies; and with the International Federation of Medical Students' Associations and the Iranian Medical Students Association in various leadership capacities.
Her research is focused on health policy, health systems, social determinants of health, gender and intersectionality.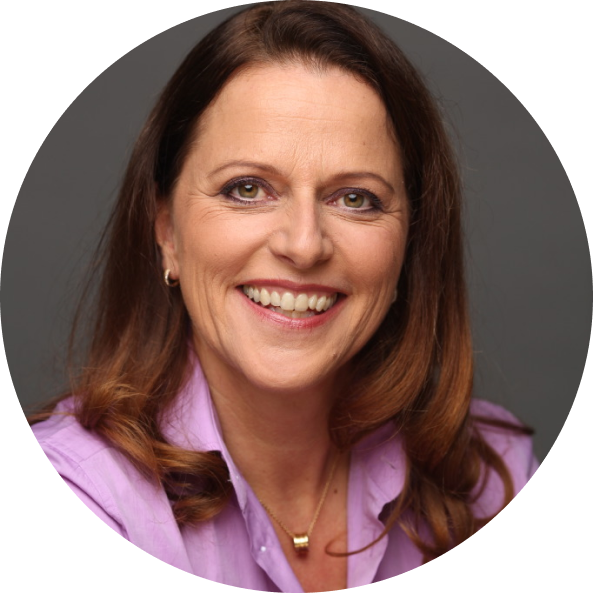 Esther Goette is a seasoned certified professional coach and leadership development consultant based in Geneva, Switzerland with over 10 years of coaching and facilitation experience.
She is specialized in Executive Coaching, Leadership Development and Team Development and works with international leaders, particularly women leaders, in supporting their professional and personal growth.
She builds on her 20 years career as a global marketing executive with roles in strategic leadership as well as operations/line management.
She is an experienced global leader of multi-functional and multi-cultural teams and has held leadership positions with Colgate-Palmolive, Procter & Gamble and Novartis OTC, in Europe and the USA.Esther has a Masters Degree in Business Adminstration from the University of Hamburg, Germany, specialized in Marketing.
She is a certified professional coach (CPCC) from the Co-Active Training Institute and received the Swiss Advanced Federal Diploma as a "Supervisor-Coach".
Dr Paul Kielstra is a freelance writer and editor who has written extensively on health systems, health policy, and healthcare economics. Topics which he has covered include the shift toward value-based care, personalised medicine, the challenges of innovation within health systems and the life sciences, the future of clinical trials, and the economics of tobacco taxation.
He has also writen studies on non-communicable diseases in Africa, the future of European and Asian healthcare systems, rare diseases, cancer, heart disease, hepatitis C, and tuberculosis.
Paul holds a doctorate in Modern History from the University of Oxford, a Graduate Diploma in Economics from the London School of Economics, and a BA from the University of Toronto. He is also a published historian.
Claudia is a biologist and a global health specialist with international experience in designing, implementing, monitoring and evaluating projects and programmes that address global health challenges with an evidence-based approach, supported by field research.
Her work experience includes community health, NCDs, nutrition, food security, infectious diseases (TB, HIV, NTDs), WASH, digital health, health promotion, health systems strengthening.
She has worked for research organizations and INGOs and with a diverse range of stakeholders (governments, ministries, UN agencies, research institutions, civil society and donors) adapting engagement, advocacy and communication strategies.
Miriam Alvarado is a Sir Henry Wellcome Trust Postdoctoral Fellow at the Centre for Diet and Activity Research (CEDAR) at the MRC Epidemiology Unit, University of Cambridge and a Visiting Fellow at the Sir George Alleyne Chronic Disease Research Centre with the University of the West Indies, Cavehill, Barbados.
Miriam's work focuses on the prevention of non-communicable disease through population-level policies such as sugar-sweetened beverage taxation. She is interested in integrating multiple types of evidence in policy evaluations, taking a systems thinking approach, and developing complexity-informed methods to synthesize policy evidence from diverse settings.
Miriam led the evaluation of the Barbados sugar-sweetened beverage tax and has worked on expert consultations for PAHO and the UN.
Seon Jae Choi is a recent graduate from the MSc Global Health and Development program from University College London (UCL), with a BSc (Hons.) in Life Sciences and a MSc in Pathology from Queen's University in Canada.
Her previous research has examined the intersections of climate change and health. She has used a systems-thinking approach to identify impact pathways and examine the intersection of climate change and health.
Seon Jae also has an extensive background in critical analysis, scientific communication, and project management.
Yolanda Kunene is a creative and multimedia content producer. She graduated from Rhodes University with a Bachelor's degree in Journalism and Media Studies (Multimedia Storytelling).
She has experience as a freelance journalist with expertise in radio and audio production. She previously worked at Cue Media as a journalist and at Rhodes Music Radio (RMR) as a story editor and producer. She also participated in the African Journalism Conference 2019 and produced the audio documentary Sivabulela Mama.
Yolanda is passionate about using her background in media to promote mental health education.
Casey McAndrew is a global health communications specialist and has extensive experience working with community-based organisations and non-profits, focusing on health promotion, outreach, and policy.
She received an MSc in Global Health and Development from University College London and a BA in Women and Gender Studies from the University of Colorado Boulder.
Her previous research uses an intersectional lens to examine topics such as gender, health, and HIV.
Ivan Maslyankov is an analyst at the National Institute for Health and Care Excellence in the UK and a visiting researcher at UHF.
His academic background is in Global Health and Development (MSc, University College London) and Biomedical Sciences (BSc, Brunel University London).
He is also training in Health Economics at the University of Sheffield.
His research is centred on the health economic aspects of cancer with a focus on early detection and screening strategies in middle income countries. Ivan is interested in the economic and policy impact of non-communicable diseases on both individuals and health systems.
 Srivatsan (Chikku) Rajagopalan
Srivatsan (Chikku) Rajagopalan is a recent graduate from the MSc Global Health Development program from University College London (UCL), with a BSc (Hons.) in Biomedical Sciences from the University of Edinburgh.
His previous global research experience has dealt with topics of child health, HIV/AIDS and global health security. He also works with charities and non-profits to increase awareness around sexual violence and harassment and advocate for change. He is currently conducting data and analysis and quantitative research to develop an index on children's health.
His diverse and international research participation has added to his interest in exploring innovation in digital health.